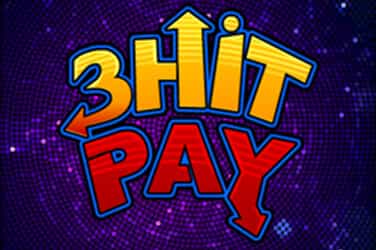 3 Hit Pay
Looking for a fun and exciting online slot game to play? Look no further than 3 Hit Pay, available at the best online casino, Wunderino.
What is 3 Hit Pay slot game?
With its classic 3-reel layout and simple gameplay, 3 Hit Pay is perfect for both seasoned slot players and newcomers alike. The game features classic slot symbols like cherries, bars, and lucky 7s, as well as a wild symbol that can help boost your winnings.
But don't let its simplicity fool you - 3 Hit Pay has some serious payout potential. With a maximum jackpot of 2,500 coins, you could walk away with some serious cash if lady luck is on your side.
How to win at 3 Hit Pay slot game?
If you're looking to increase your chances of winning at the 3 Hit Pay online slot game, there are a few strategies and tips that you can keep in mind.
First and foremost, it's important to remember that slot games are games of chance - there's no guaranteed way to win every time. There are a few things you can do to help increase your odds of winning.
One important tip is to always play the maximum number of coins per spin. This is especially important in games like 3 Hit Pay, where the jackpot is significantly higher if you bet the maximum amount. By betting the maximum amount, you'll be eligible for the top payout if you hit the jackpot.
Another tip is to pay attention to the paytable and understand the rules of the game. The paytable will tell you which symbols are the most valuable and which combinations will result in the highest payouts. Understanding the rules of the game can also help you make more informed decisions when it comes to placing bets.
It's also a good idea to set a budget for yourself and stick to it. Don't spend more than you can afford to lose, and never chase your losses by betting more money than you initially planned. This can quickly lead to financial trouble and take away from the fun of playing casino games.
Finally, take advantage of any bonuses or promotions that may be available to you. Many online casinos, including Wunderino where 3 Hit Pay is available, offer sign-up bonuses, free spins, and other promotions that can help boost your bankroll and give you more opportunities to win.
In conclusion, winning at the 3 Hit Pay online slot game comes down to a combination of luck and strategy. By betting the maximum amount, understanding the rules of the game, setting a budget, and taking advantage of bonuses and promotions, you can increase your odds of hitting the jackpot and walking away with a big win.
RTP (Return to Player) and Volatility
The RTP, or return to player, is an important concept to consider when playing online slot games, as it gives an idea of how much of the wagers made on the game will be returned to players as winnings over time. In the case of the 3 Hit Pay slot game, the RTP is set at 96.21%.
This means that, over the long run, players can expect to win back 96.21 cents for every dollar they wager on the game. Of course, it's important to remember that this is an average figure, and actual results can vary widely depending on luck and other factors.
3 Hit Pay is considered to be a low-volatility slot game. This means that while you may not win as much in a single spin as you might with a higher-volatility game, you can expect to win more frequently. This can make the game a good choice for players who prefer to see more consistent, smaller wins rather than chasing after a big payout.
Conclusion
Whether you're a fan of classic slots like 3 Hit Pay or prefer more modern, feature-packed games, Wunderino has you covered. And with a user-friendly website and mobile app, it's easy to get started and start playing your favorite casino games from anywhere.
So why wait? Head over to Wunderino and start playing 3 Hit Pay and other great casino games today. With its simple gameplay, classic symbols, and serious payout potential, you won't be disappointed.