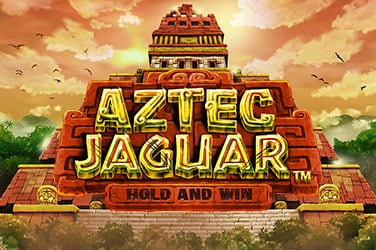 Aztec Jaguar
In the heart of the ancient Aztec empire lies a mystical online slot game called Aztec Jaguar that will transport you to a world of excitement and adventure. Step into the shoes of a fearless explorer as you embark on a quest to uncover hidden treasures and unlock the secrets of the Aztec civilization. With its stunning graphics, immersive gameplay, and lucrative rewards, Aztec Jaguar promises to captivate both seasoned players and newcomers alike.
Dive into an Enchanting Aztec World Filled with Riches
As you enter the world of Aztec Jaguar, you will be greeted by an enchanting backdrop of lush rainforests, ancient temples, and intricate stone carvings. The game's vibrant and detailed graphics bring the Aztec civilization to life, immersing you in a world of mysticism and wealth. The soundtrack, composed of traditional Aztec melodies and the sounds of nature, adds to the immersive experience, creating a truly captivating atmosphere.
Prepare yourself for a thrilling adventure as you spin the reels of Aztec Jaguar. The game features a classic 5x3 reel setup with multiple paylines, offering ample opportunities to win big. The symbols on the reels are inspired by Aztec culture, including masks, artifacts, and the majestic Aztec Jaguar itself. Land a winning combination, and watch as the reels come alive with animated sequences and satisfying sound effects.
But that's not all - Aztec Jaguar boasts an array of exciting bonus features to keep you on the edge of your seat. Trigger the Free Spins feature by landing three or more Scatter symbols, and you'll be rewarded with a set number of free spins. During this bonus round, the power of the Aztec Jaguar is unleashed, with expanding wilds and increasing multipliers that can lead to massive wins.
Additionally, keep an eye out for the Treasure Hunt Bonus Game, where you'll navigate through a treacherous maze in search of hidden treasures. Each correct choice will bring you closer to untold riches, while a wrong turn can lead to traps and missed opportunities. This thrilling mini-game adds an extra layer of excitement and interactivity to Aztec Jaguar, ensuring that every spin is filled with anticipation and possibility.
In conclusion, Aztec Jaguar is a captivating casino game that takes you on a journey through the mystical Aztec civilization. Immerse yourself in the rich visuals and enchanting soundscapes as you uncover hidden treasures and trigger thrilling bonus features. With its immersive gameplay and lucrative rewards, Aztec Jaguar offers an unforgettable gaming experience that will keep you coming back for more. Get ready to unleash the power of the Aztec Jaguar and embark on an adventure of a lifetime.