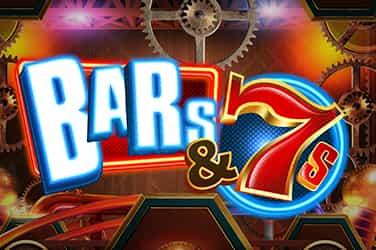 BARs&7s
In the world of online slot gaming, innovation and novelty are often the norm. However, there is an undeniable charm in traditional slot games, offering a taste of the classic brick-and-mortar casino ambiance in an online environment. One such game that stands out from the crowd is Bar's & 7's by Greentube. This slot machine game evokes the simplicity and nostalgia of old-school slot games, while still delivering the excitement and user-friendliness expected in modern digital casino platforms.
Bar's & 7's uses a relatively simple, yet visually appealing interface that is both accessible to new players and appealing to experienced ones. The game sticks to the traditional theme of slot machines, with its iconic symbols of bars, sevens, stars, and various fruits, all beautifully rendered in bold, vibrant colors that catch the eye.
The mechanics of the game are straightforward, which adds to its appeal. Bar's & 7's features three reels and a single pay-line. With a 95% Return to Player (RTP) rate, it offers players a solid chance of receiving a return on their stakes.
While the game may seem simple on the surface, it holds a hidden surprise for players – the 'nudge' feature. This feature provides players with the opportunity to move a reel one position up or down to create the best possible combination, adding a unique layer of strategy to the game.
As you spin the reels, the calming and rhythmic sound effects contribute to the traditional feel of the game. The audio complements the theme perfectly, transporting players back to the golden age of physical slot machines, enhancing the overall immersive experience.
An important point to note is the contrast and balance between this traditional slot game and other forms of online casino games. For a comprehensive online gaming experience, consider incorporating other games like roulette or online baccarat into your repertoire. These table games, combined with a classic slot game like Bar's & 7's, provide a well-rounded, varied gaming experience that caters to a broad range of preferences.
Moreover, Bar's & 7's also features a gamble function, which allows players to wager their winnings in a double-or-nothing bet. This involves guessing the color of a hidden card – a correct guess doubles the winnings, while an incorrect guess results in a loss. This element of risk injects a thrilling layer of anticipation into the gameplay, adding an additional dimension of excitement to this classic-themed slot game.
Another commendable aspect of Bar's & 7's is its device compatibility. The game is designed to work seamlessly on a variety of devices, including smartphones, tablets, and desktops, ensuring that players can enjoy this classic slot game anytime and anywhere.
In conclusion, Bar's & 7's offers a charming blend of nostalgia and modern online gaming. Its simplicity, combined with the strategic 'nudge' feature and the thrilling gamble function, makes it a slot game that is both enjoyable and exciting. It brings back the timeless appeal of traditional slot machines, complemented by the convenience and functionality of modern digital gaming.
Whether you are a seasoned player seeking a taste of nostalgia or a newcomer wanting to experience the charm of traditional slots, Bar's & 7's is a fantastic choice. Its classic theme, engaging gameplay, and potential for sizeable payouts make it a truly entertaining and rewarding gaming experience.