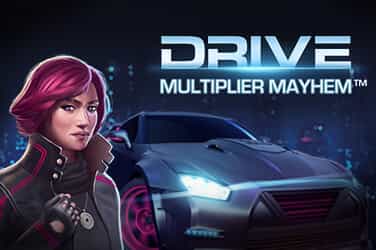 Drive: Multiplier Mayhem
Driver: Multiplier Mayhem is a race car inspired slot game from NetEnt, with high paced gameplay and lots of cool features for you to enjoy. Set on the streets of a futuristic city, Driver: Multiplier Mayhem brings you 5 reels of pure racing goodness. The reels are filled with different opponents in the race, as well as the race car and a Wild symbol. The graphics are high quality and you will definitely like what you see in the game. The city skyline glowing in the night works as a very nice backdrop, adding a lot of feeling to the game.
In terms of bonus features and gameplay, Driver: Multiplier Mayhem is as fast paced and exciting as any car race. You will find stuff such as Multiplier Wilds, Free Spins, and a special bet line Multiplier that can go all the way up to no less than 120 times your bet. How about that? In addition, there is also a bonus game in Free Spin mode in which you will actually be part of a race against the racing rivals. So buckle up and get ready for an adrenaline rush!